"Keeping in Touch"
From: Dr. Sheila Bond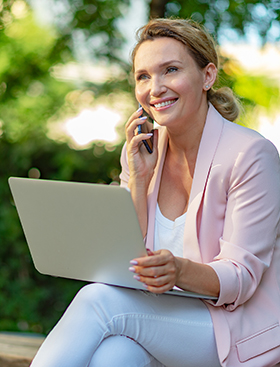 Since it looks like we're going to be hunkered down for a while longer, we definitely want to stay in touch with all of our wonderful patients and patients-to-be.
We will be answering your questions daily on Instagram and our website and posting videos from all of us here. Send a question and we'll answer it online.
If the stress of quarantine is making you frown, fear not, we will continue the BOTOX® Sale whenever we safely return to the office:
10 units FREE with purchase of 25 units!*
If you would like to have a virtual consultation with Dr. Bond, call or email us to schedule a convenient time for an appointment.
Tell us how you're keeping busy at home, and we'll let you know what Dr. Bond and the "Bond Girls" are doing in quarantine.
We hope that you are practicing safe distancing and sheltering in place as much as possible.
Please know that we miss you all. Stay safe and healthy.
* Dysport® and Xeomin® are included in the sale. Must use a minimum of 25 units.
---
Coronavirus Update
Notice Regarding All Office Visits to Body and Face Cosmetic & Plastic Specialists
As of March 2020, we are asking that all patients with upper respiratory symptoms such as cough, fever, shortness of breath to please cancel and reschedule your appointments. We advise you to call your family doctor if you have any of these symptoms. Additionally, if you have recently traveled to a country with high rates of the coronavirus or have been on a cruise please reschedule your visit for at least 14 days from the time of your visit.
We also ask that you bring only one family member (if needed) to the office with you for your appointment. Please leave all babies and children under the age of 16 at home.
Thank you for your cooperation and understanding.
---
Earn points each time you fill your lines! We'd like to reward our "frequent filler" patients by enrolling you in our Bond Bucks program.
Earn points each time you receive a filler or treatment for frown lines. Unlike other programs which are limited to a specific brand, BOND BUCKS rewards points for ALL products: Restylane®, Silk®, Lyft®, Perlane®, Juvederm®, Radiesse®, BOTOX®, Dysport®, and Juveau®.
Filler Treatments (Restylane®, Silk®, Lyft®, Perlane®, Juvéderm® Radiesse®) = 200 points per syringe
Frown Lines: BOTOX® or Dysport® or Juveau® Newtox = 150 points per treatment*
BOND BUCKS points can be cashed in at any time or saved up for a big bucks reward:
100 points = $20 credit
200 points = $40
300 points = $60
400 points = $80
500 points = $100
Save your BUCKS in the "Bank of Bond" and earn "interest" in your face!
Points earned will not expire and will continually accrue and can be used at any time toward any full price filler or frown line treatment.
In the event of a BOGO, only the paid syringe will be counted toward points. Product specials and sales do not earn BOND BUCKS.
*BOTOX®, Dysport® or Juveau® treatments must be a minimum of 20 units to earn points.
BOND BUCKS points will be earned retroactively from January 1, 2014.
Call us for more information! (973) 509-0007
---
Visit our plastic / cosmetic surgery office located in Montclair, New Jersey (NJ). We serve patients from the following area, such as Essex, Hudson, Passaic and Sussex counties, as well as Jersey City, Newark, NJ and all surrounding areas including New York (NY).
Meet Dr. Bond
Choose your cosmetic surgeon carefully. If you are seeking an experienced and acclaimed New York/New Jersey plastic surgeon who produces natural- looking results, contact BODY and FACE for the expert care of your surgical needs.
CLICK HERE FOR
REAL PATIENT REVIEWS