Have you lost weight by dieting and exercise but still are troubled by loose skin? If you are looking for a non-surgical alternative to tighten loose skin, Dr. Sheila Bond offers Exilis™ RF system. This advanced non-surgical skin tightening, fat reduction body contouring system is a non-invasive technology that combines RF and ultrasound energy to tighten skin on the face and body for men and women.
Many of our patients have expressed an interest in contouring fat or smoothing wrinkled skin, but do not want invasive surgery, a hospital stay or a lengthy and uncomfortable recovery. We believe that Exilis™ RF may be right for you.
How Does Exilis™ RF Tighten Skin
At the Body and Face Cosmetic Plastic Specialist NJ, Exilis™ RF is used to melt fat cells without liposuction and is also effective in tightening loose skin. The appearance of loose skin is improved as the RF energy works by heating the deep level of collagen under your skin, causing it to tighten. Dr. Bond explains as your collagen growth is stimulated you will notice firmer and tighter skin over time.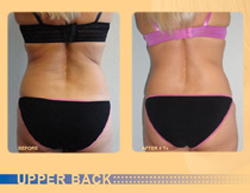 Exilis™ RF has been clinically tested, and is FDA-cleared for use in aesthetic skin tightening procedures for all over the body including, arms, back, bra folds, love handles, waist and stomach.
Exilis™ RF is painless and patients report that the treatment feels like a hot stone massage. There is no downtime* or need for recovery.
Ask Dr. Sheila Bond and her body shaping and skin tightening specialist if Exilis™ RF can address your skin tightening goals.
Visit our plastic / cosmetic surgery office located in Montclair, New Jersey (NJ). We serve patients from the following area, such as Essex, Hudson, Passaic and Sussex counties, as well as Jersey City, Newark, NJ and all surrounding areas including New York (NY).
Meet Dr. Bond
Choose your cosmetic surgeon carefully. If you are seeking an experienced and acclaimed New York/New Jersey plastic surgeon who produces natural- looking results, contact BODY and FACE for the expert care of your non-surgical needs.
CLICK HERE FOR
REAL PATIENT REVIEWS