Expert Lymphatic Massage Performed by Dr. Sheila Bond
Lymphatic massage is an excellent technique to help patients after cosmetic surgery by stimulating lymph glands and draining the waste and toxins from the body. Lymphatic massage is for patients who have undergone cosmetic surgery, particularly body enhancements procedures such as liposuction, tummy tuck, middle body makeover, and mommy makeover. Lymphatic drainage massage can also be used to enhance your skin health, relieve stress, relieve tension, and to strengthen the immune system. If you are breastfeeding or have edema, lymphatic massage is beneficial. Overall, lymphatic massage useful in helping you feel more comfortable and accelerating your recovery process.
What Is A Lymphatic Massage And How Does It Work?
Lymphatic drainage massages focus on helping to stimulate targeted lymph glands and will also help stimulate the lymphatic system to drain and excrete waste and toxins from the body. Our body's lymphatic system carries lymph fluid comprised of proteins, fat cells, waste products, and metabolized cells that is processed and filtered through the lymph nodes. When an individual's lymphatic system isn't optimally working, excess fluid builds up, causing swelling (edema) which is uncomfortable looking and feeling.
Lymphatic drainage massage is a form of gentle massage that encourages the movement of lymph fluids around the body. At The Body and Face Cosmetic & Plastic Specialists NJ, Dr. Sheila Bond works with a trained lymphatic massage specialist to push lymph though her patient's body resulting in reducing excess fluid in the targeted area and removing toxins from the body.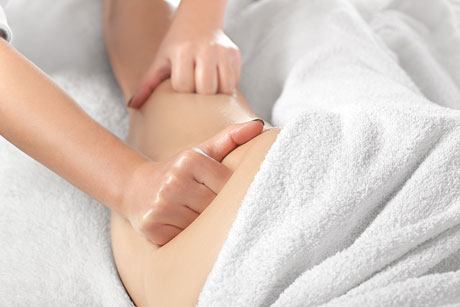 What Are The Benefits Of Lymphatic Massage?
One of the most common side effects of cosmetic surgery is swelling. Patients should not be alarmed as it is the body's normal response and a part of the healing process.
For body procedures such as tummy tucks and liposuction, swelling is to be expected. There is help! Dr. Sheila Bond recommends lymphatic massage to her patients for the following healing benefits:
Aids in healing after surgery, injury, or certain illnesses
Aids in removing metabolic waste from the body
Reduces swelling and fluid retention
Improves skin quality Reduces scar formation
Dr. Sheila Bond highly recommends lymphatic massage after surgery to aid in her patients' healing and comfort. Contact us today to learn more.
Patient Referral Bonus
Refer a friend and receive a $500 credit towards your future surgery procedure. Click here for more information.
Visit our plastic / cosmetic surgery office located in Montclair, New Jersey (NJ). We serve patients from the following area, such as Essex, Hudson, Passaic and Sussex counties, as well as Jersey City, Newark, NJ and all surrounding areas including New York (NY).
We look forward to meeting you in person.
Meet Dr. Bond
Choose your lymphatic massage specialist carefully. If you are seeking an experienced and acclaimed New York/New Jersey plastic surgeon who produces natural- looking results, contact BODY and FACE for the expert care of your surgical needs.
CLICK HERE FOR
REAL PATIENT REVIEWS