Permanent Eyeliner (Top And Bottom)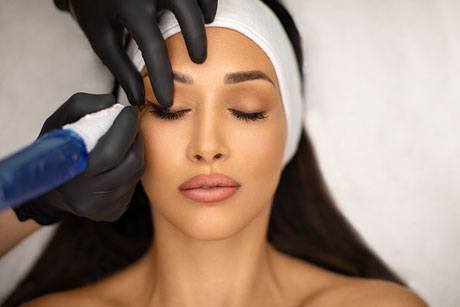 Did you know that eyeliner tattoos (also known as permanent eyeliner) have been around for decades? Permanent eyeliner (for top and bottom eyelids) is a safe and effective cosmetic treatment to have expertly shaped eyeliner every day. You can achieve natural-looking results in just one appointment. Imagine all the time you can save on your makeup routine!
An expertly applied eyeliner tattoo can enhance your eye shape.
How Long Do Eyeliner Tattoos Last?
Eyeliner tattoos are not actually permanent. That's just what the industry calls eyeliner tattoos. However, the tattooed eyeliner can typically last up two and five years before you'll need a touch-up due to fading. Unlike normal body tattoos, the pigment is only shallowly deposited along the upper and/or lower eyelid which is one of the reasons why it does not last longer.
Are You Interested In Eyeliner Tattooing?
The first step is to call or email our office to schedule an appointment to discuss your medical history, the eyeliner color you are interested in, and the eyeliner shape and style you desire, ranging from an extremely thin and natural-looking liner to thicker lines, and even a winged eyeliner shape. Our professional staff will be able to advise you if you are a candidate and which color and style will look best.
Clients are advised to stop using skincare products that contain retinol or glycolic acid around the eyes for a week before your appointment.
The procedure is comfortable as the eye area is numb. The average procedure time ranges from 45 minutes to 1 hour, dependent upon the requested tattoo. Clients will feel a slight buzzing along your eyelashes where the needle is precisely placed to apply the ink. A follow-up appointment 6 to 8 weeks later will be required to touch up your permanent eyeliner so that the artist can perfect your look.
Expert eyeliner tattooing is currently available at The Body and Face Cosmetic and Plastic Specialists NJ. Dr. Shelia Bond has experienced cosmetic tattooing specialists to create the look you desire.
Meet Dr. Bond
Choose your permanent eyeliner (top and bottom) expert carefully. If you are seeking an experienced and acclaimed New York/New Jersey plastic surgeon who produces natural- looking results, contact BODY and FACE for the expert care of your surgical needs.
CLICK HERE FOR
REAL PATIENT REVIEWS