Expert Teeth Whitening & Tooth Gems by Dr. Bond
Your smile says a lot about you. Why not take your smile to the next level with whiter and brighter teeth and tooth gems that express your style!
When Should You Consider Whitening Your Teeth?
If you are concerned about the yellowing of your teeth, stains, or discoloration due to medications, whiting your teeth is an ideal way to enhance the beauty of your smile.
Teeth whitening is a popular cosmetic procedure we are happy to offer at the Body and Face Cosmetic & Plastic Specialists NJ. Whitening your teeth, often referred to as bleaching, is a non-invasive cosmetic treatment that changes the color of the enamel of your teeth. Patients are reminded that the results are not permanent as touch-up treatments are recommended especially if you drink coffee, tea, red wine, or smoke.
What Are Tooth Gems?
Tooth gems are small jewels that are attached to the surface of your teeth using an adhesive. They are quite popular and can add a temporary boost to your smile.
Once our staff have determined that you are a candidate for tooth gems, you may select from a range of small dental jewels. The jewels are precisely applied by Dr. Bond's staff to the tooth with a safe dental adhesive. After the initial gem application, individuals report some sensation as they need a few days to get used to the gem feeling on their tooth. The weight of the gem plays into the feelings of an individual's tooth.
Can You Properly Brush Your Teeth With A Gem?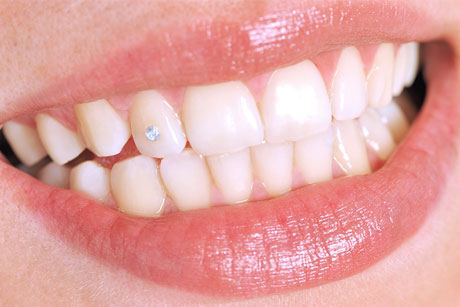 The answer is yes since the gem is bonded to the tooth's enamel (similar to the brackets of braces) and the teeth can be easily brushed. Maintaining proper oral hygiene is always important, but especially when you have a gem adhered to your tooth as bacteria can develop if you are not brushing your teeth regularly.
Tooth gems are temporary as the adhesive material does wear away over time. Proper care will typically keep your gem viable for reapplication. The removal of the gem is done by easily popping off the gem and removing any excess bonding material.
Ask about our combo teeth whitening and gem application package.
Patient Referral Bonus
Refer a friend and receive a $500 credit towards your future surgery procedure. Click here for more information.
Visit our plastic / cosmetic surgery office located in Montclair, New Jersey (NJ). We serve patients from the following area, such as Essex, Hudson, Passaic and Sussex counties, as well as Jersey City, Newark, NJ and all surrounding areas including New York (NY).
We look forward to meeting you in person.
Meet Dr. Bond
Choose your cosmetic surgeon carefully. If you are seeking an experienced and acclaimed New York/New Jersey plastic surgeon who produces natural- looking results, recieve expert teeth whitening & tooth gems by Dr. Bond.
CLICK HERE FOR
REAL PATIENT REVIEWS