Best body Makeover Surgery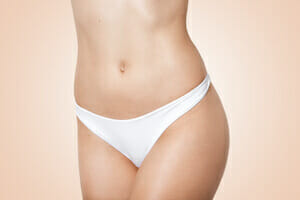 Have you ever wanted to move your excess fat from an unwanted part of your body to another area that could use a bit more filling? For example, excess abdominal or thigh fat to your buttocks? What was once a joke is not just a dream, but a real procedure with excellent patient satisfaction in achieving your goal of cosmetically re-shaping your entire middle section of your body to get a flat belly, a trim waist, and even enhanced buttocks! With a middle body makeover, it's possible to re-shape your entire middle and get the figure you desire.
If you can imagine yourself with a flat tummy, a trim waist and beautifully rounded buttocks, the middle body makeover may be right for you. This surgery, pioneered by Dr. Sheila Bond combines several procedures including liposuction of the upper and lower abdomen, both sides of the waist and more liposuctioning to the lowest part of the back. The fat is then processed and injected into the buttocks (Brazilian Butt Lift) to give them a rounder, fuller look. The liposuction above the buttocks gives an appearance of even more projection.
How Is A Middle Body Makeover Performed?
Dr. Sheila Bond will precisely liposuction the upper and lower abdomen and then move on to the waist and flanks. The patient is the turned for liposuction of the back and the last step is to harvest fat which is processed and injected into the quadrants of the buttocks so that the butt appears lifted, full and perky.
Exact injection methods are essential to achieve a uniform, smooth, natural appearance to the buttocks. At the same time, Dr. Bond will usually liposuction and re-shape the unwanted contours of the buttocks for the perfect outcome. This procedure is done in a hospital under general anesthesia on an outpatient basis.
What Is The Recovery From A Middle Body Makeover?
After surgery, patients are sore and experience some swelling in the areas that underwent liposuction. Patients are advised to wear a compression garment, similar to a girdle for 4 to 6 weeks to alleviate swelling and ensure maximal skin adhesion and healing. You will not be able to sit directly on the new butt for about 2 weeks to ensure optimal results*.
Patients are advised that a good amount of harvestable fat will be needed to achieve a more prominent and a shapely buttock. While many women complain about excess fat, sometimes, it can sometimes be a good thing to hold onto a few extra pounds. At least now, you'll be able to put it toward a good cause and a prettier, sexier profile!
Schedule Your Consultation For A Shapely New You!
There are many solutions to address body shaping and contouring concerns. If you would like to improve the look of your mid-section and diet and exercise has not accomplished your goal, call us to set up a personalized consultation to determine if you are a candidate for a middle body makeover. We invite you to consult with Dr. Sheila Bond and her body shaping professionals at The Body and Face Cosmetic and Plastic Specialists NJ to learn more about surgical and non-surgical body shaping procedures. Call (973) 509-0007 to schedule your confidential consultation.
Visit our plastic / cosmetic surgery office located in Montclair, New Jersey (NJ). We serve patients from the following area, such as Essex, Hudson, Passaic and Sussex counties, as well as Jersey City, Newark, NJ and all surrounding areas including New York (NY).
Meet Dr. Bond
Choose your cosmetic surgeon carefully. If you are seeking an experienced and acclaimed New York/New Jersey plastic surgeon who produces natural- looking results, contact BODY and FACE for the expert care of your surgical needs.
CLICK HERE FOR
REAL PATIENT REVIEWS