Have you heard about an aesthetic surgical procedure call a "mommy makeover?" If you have lost weight and exercised but still have not been able to get your pre-pregnancy figure back, a Mommy Makeover may be right for you. This is a popular procedure for women who want to restore their bodies to pre-motherhood shape.
A Mommy Makeover is a series of cosmetic (plastic) surgery procedures that may include some or all of the following procedures:
The overall goal is to re-shape your body that has been changed due pregnancy, childbirth and breast feeding.
Preferably women should be finished having children and breast feeding before undergoing a Mommy Makeover. Women can bear children after they have the procedure but should be aware that doing so many reverse their Mommy Makeover results.
Individual results may vary.
What Is A Mommy Makeover?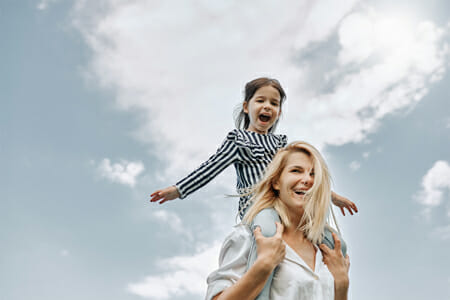 Mommy Makeover is a generic term that refers to a combination of surgeries to changes to a women's body after having children…breasts and abdomens. After a pregnancy, the skin of the abdomen is often stretched and wrinkled. The underlying muscles have stretched out in an open position and feel saggy, especially in a sitting position.
In many Mommy Makeover patients, Dr. Sheila Bond performs a tummy tuck to remove the wrinkled pouch of skin and fat, bring the muscles together and pull taut, firm skin over tight, flat muscles. Using liposuction fat can be removed from your waist and love handles.
Depending on the amount of sag after pregnancy and breastfeeding, your breasts can be restored by a breast lift and if desired, breast augmentation.
Dr. Bond uses general anesthesia for breast augmentation and tummy tuck surgery. However, other procedures can be performed under either local or general anesthesia. Dependent upon the procedure and/or combination of surgical procedures, a Mommy Makeover can require a longer recovery period and time away from work and/or strenuous activities. Dr. Bond will provide specific post-operative and recovery instructions and follow up visits.
Schedule Your Consultation For A Shapely New You!
There are many solutions to address aging facial concerns. More and more women and men are finding that a brow lift or facelift performed by a plastic surgeon with extensive training and expertise in facial rejuvenation surgery could help them renew their youthful appearance. Consult with Dr. Bond at The Body and Face Cosmetic and Plastic Specialists NJ to learn more about natural-looking facelift results. Call (973) 509-0007 to schedule your confidential consultation.
Visit our plastic / cosmetic surgery office located in Montclair, New Jersey (NJ). We serve patients from the following area, such as Essex, Hudson, Passaic and Sussex counties, as well as Jersey City, Newark, NJ and all surrounding areas including New York (NY).
Meet Dr. Bond
Choose your cosmetic surgeon carefully. If you are seeking an experienced and acclaimed New York/New Jersey plastic surgeon who produces natural- looking results, contact BODY and FACE for the expert care of your surgical needs.
CLICK HERE FOR
REAL PATIENT REVIEWS