SMOOTH, GRACEFUL, & YOUTHFUL-LOOKING NECK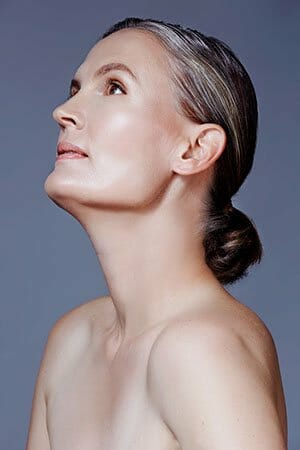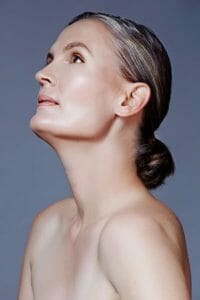 Visible signs of aging are seen in the face and neck. The signs of an aging neck include sagging skin, jowls, bands, and wrinkles on the neck. There is a cosmetic solution to help rejuvenate the neck. Sagging, crepey skin, and excess fat (jowls) can be addressed with neck lift surgery. For men and women who are bothered by a double chin or so called "turkey waddle", facial liposuction may be recommended to help to restore your neck to a shapely appearance.
Dr. Sheila Bond will meet with you to evaluate your neck rejuvenation concerns and determine the best cosmetic procedure; a neck lift or possibly liposuction. If the skin is lax or if there is extra skin, a skin tightening procedure with incisions behind the ears is usually best. If skin tone is adequate, excess fat can be removed with liposuction alone.
The neck lift can be performed in conjunction with a facelift or a chin implant. Facial fillers may be recommended to optimize your facial rejuvenation goals.
Dr. Sheila Bond and the body shaping professionals at The Body and Face Cosmetic and Plastic Specialists NJ specialize in rejuvenating breast enhancement surgical procedures.
WHO IS A CANDIDATE FOR A NECK LIFT?
Good candidates for neck lift surgery include men and women who have:
Sagging skin due to aging
Excess fat and sagging skin
Experienced major weight loss resulting in facial contour changes
With age, the skin becomes loose and the underlying structures of the skin become lax. The best way to tighten the skin of the neck and achieve a more youthful appearance is to undergo a neck lift.
For patients that have a double chin, liposuction of the neck can help. Liposuction removes excess fat but does not address sagging skin. Liposuction of the neck is a good procedure for younger patients with good skin elasticity and with the goal to achieve a more defined and shapelier chin/neckline appearance.
HOW IS A NECK LIFT PERFORMED?
During the neck lift, Dr. Sheila Bond will remove excess fat from below the chin or neck using a gentle liposuction procedure or directly removes the unwanted fat.
Platysmaplasty, a tightening of the neck muscles will be performed with a tiny well-concealed incision under the chin. The surgeon carefully lifts the muscles of the neck and removes extra skin and fat. The incisions are closed and a pressure dressing around your head and underneath the chin is applied.
A neck lift is performed in an outpatient surgical center under general anesthesia and takes several hours.
What Is The Recovery Process?
Patients will return home with a neck support garment, an elastic dressing that allows the treated area to heal properly, and wear it for at least a week to maintain the neck's new position. Post-operative bruising and swelling will take several weeks to resolve*.
SCHEDULE YOUR CONSULTATION FOR A REJUVENATED YOU!
There are many solutions to address aging facial concerns. More and more women and men are finding that a neck lift performed by a plastic surgeon with extensive training and expertise in facial rejuvenation surgery can help them renew their youthful appearance. Consult with Dr. Sheila Bond and the cosmetic professionals at The Body and Face Cosmetic and Plastic Specialists NJ to learn more about natural-looking facial enhancement procedures. Call (973) 509-0007 to schedule your confidential consultation.
Visit our plastic / cosmetic surgery office located in Montclair, New Jersey (NJ). We serve patients from the following area, such as Essex, Hudson, Passaic and Sussex counties, as well as Jersey City, Newark, NJ and all surrounding areas including New York (NY).
Meet Dr. Bond
Choose your cosmetic surgeon carefully. If you are seeking an experienced and acclaimed New York/New Jersey plastic surgeon who produces natural- looking results, contact BODY and FACE for the expert care of your surgical needs.
CLICK HERE FOR
REAL PATIENT REVIEWS