Skin Tightening, Fat Contouring and Wrinkle Reduction in Montclair, New Jersey
Exilis® RF Fat Reduction, Skin and Tissue Tightening system has become one of the hottest trends in body contouring throughout the United States. The Exilis™ RF system is non-invasive as it utilizes two types of advanced energy technologies: ultrasound and radiofrequency (RF). The ultrasound waves loosen pockets of fat and the RF energy liquefies targeted fat cells.
Exilis™ RF system is a no-downtime*, no pain, in-office procedure used by Dr. Sheila Bond and her body contouring professionals at The Body and Face Cosmetic and Plastic Specialists NJ for combined skin tightening, fat removal and body contouring. An added benefit is noticeable improvements in skin tone and texture.
Hollywood Loves Exilis™
The Exilis™ RF laser has been featured on many media outlets including the Today Show with Kathie Lee & Hoda. After trying diet and exercise to remove her "menopot", her post-menopausal belly fat that would not go away. Kathie Lee was treated with Exilis™ and was able to lose 2 inches from her waist in just a few weeks*.
Hod Does the Exilis® RF System Work?
This advanced technology is a superior skin tightening and fat reduction system as high energy levels are precisely delivered to the targeted areas.
The Exilis™ device uses radio frequency (RF) waves to melt fat cells without liposuction surgery, after which your body will reduce the melted fat naturally. The Exilis® RF system uses a proprietary cooling system that offers greater control over the energy that is dispersed with no damage to surrounding tissue.
Exilis™ fat reduction treatment does not involve any incisions or surgery, which means there is no pain and patients say that Exilis™ treatments and feels like a hot stone massage. It requires no downtime needed for recovery. In addition, Exilis™ is much more affordable than surgical body contouring procedures.
After a few Exilis™ treatments, you can lose several inches from your waist and feel noticeably tighter, firmer skin. Ask Dr. Sheila Bond if you are a candidate for Exilis™.
What Are the Results of the Exilis® RF System?
Fat Reduction and Skin Tightening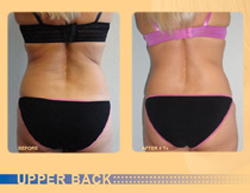 Exilis™ is a non-invasive treatment for fat reduction and it also tightens and rejuvenates your skin. The RF waves not only empty fat cells, they also stimulate collagen production and remodeling of your skin cells, which keeps your skin looking fresh and youthful.
Since Exilis™ treatments can be used all over the body, noticeable improvements can be made to sagging arms, thighs, bra folds and "love handles" as well.
Skin Tightening and Wrinkle Reduction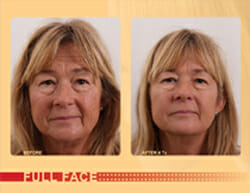 Because of its collagen-stimulating effects, Exilis™ is also a remarkably effective way to rejuvenate your face and improve stubborn jowls and fat deposits.
If sagging skin and wrinkles are making you look and feel old, Exilis™ also produces facial rejuvenation and smoothing for undereye bags, "lipstick lines", naso-labial folds and marionette lines around the mouth, "turkey neck" or double chin.
The degree of correction you obtain will depend on your starting point, age and other factors. It will not replace surgery, but everyone will see definite improvement after several treatments with Exilis™.
There are many solutions to address your body shaping and facial renewal goals. Consult with Dr. Sheila Bond and the professionals at The Body and Face Cosmetic and Plastic Specialists NJ to learn more about Exilis™ and other non-surgical advanced procedures. Call (973) 509-0007 for your confidential consultation.

Visit our plastic / cosmetic surgery office located in Montclair, New Jersey (NJ). We serve patients from the following area, such as Essex, Hudson, Passaic and Sussex counties, as well as Jersey City, Newark, NJ and all surrounding areas including New York (NY).
Meet Dr. Bond
Choose your cosmetic surgeon carefully. If you are seeking an experienced and acclaimed New York/New Jersey plastic surgeon who produces natural- looking results, contact BODY and FACE for the expert care of your non-surgical needs.
CLICK HERE FOR
REAL PATIENT REVIEWS