Restore Your Youthful Appearance Without Surgery
Have you ever stood in front of a mirror and admired how youthful your face looks when you hold your fingers at your temples and pull up? Well, that's the effect a non-surgical Thread Lift can give you with tiny threads that pull up your sagging skin from underneath and lock them into place.
A Thread Lift may be a viable option for men and women looking to tighten up loose, crepey skin.
Is A Thread Lift The New Facelift?
If you're not ready for a surgical facelift, but are bothered by the facial sagging and loose skin, you may benefit from a Thread Lift. Unlike a traditional surgical facelift, the Thread Lift doesn't involve incisions or deep-tissue manipulation. It is a much easier process for the patient but patients are advised that it won't achieve a result of the same magnitude or longevity of a traditional facelift.
Individual results may vary.
The Thread Lift is a minimally invasive mini-lift procedure is performed in our office by Dr. Sheila Bond in one hour using a local anesthetic.
Thread Lift type procedures are not new! These types of minimally invasive facial enhancement procedures have been performed for many years in Europe. The Thread Loop Lift technique that Dr. Bond performs was perfected in Canada by Dr. Stephen Mulholland, who personally trained Dr. Sheila Bond in this procedure.
Who Is A Candidate For A Thread Lift Verses A Facelift?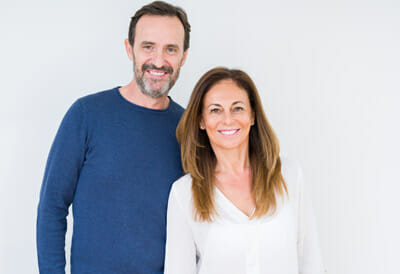 Women and men who are in their 30s to 60s and have relatively good skin tone are candidates for facial rejuvenation. People who are beginning to experience sagging in their face or neck but do not have excessively loose skin or drooping facial areas may be a good candidate for a Thread Lift.
However, if the visible signs of aging are significant, including deep lines, folds wrinkles running from the corner of your nose, sagging jowls, or loss of a well-defined jaw line, a facelift may be the better option to achieve your long term facial rejuvenation goals.
What Is A Thread Lift And How Is It Performed?
What Is The Recovery Process?
What Are The Results Of A Thread Lift?
Schedule Your Consultation For A Rejuvenated You!
There are many solutions to address aging facial concerns. More and more women and men are finding that a brow lift or facelift performed by a plastic surgeon with extensive training and expertise in facial rejuvenation surgery could help them renew their youthful appearance. Consult with Dr. Bond at The Body and Face Cosmetic and Plastic Specialists NJ to learn more about natural-looking facelift results. Call (973) 509-0007 to schedule your confidential consultation.
Visit our plastic / cosmetic surgery office located in Montclair, New Jersey (NJ). We serve patients from the following area, such as Essex, Hudson, Passaic and Sussex counties, as well as Jersey City, Newark, NJ and all surrounding areas including New York (NY).
Meet Dr. Bond
Choose your cosmetic surgeon carefully. If you are seeking an experienced and acclaimed New York/New Jersey plastic surgeon who produces natural- looking results, contact BODY and FACE for the expert care of your surgical needs.
CLICK HERE FOR
REAL PATIENT REVIEWS